Welcome to the new look of The Dime Diary! I hope everyone is enjoying the new layout, I know I'm super happy with the outcome. I have a new button under "share the love" and I also have new social media icons so that you can easily follow me on Facebook, Twitter, Pinterest, Bloglovin', and Instagram! so feel free to follow me on any of those sites! And let me know what you think of the new site!
Our look today is a little more casual than some of my recent church outfits, but still dressy enough for date night! I actually wore this look this week on a date night with my hubby (and baby). We went to Guru's for dinner, and went to see Rock of Ages (cheesy, but pretty fun). Ava was loving the music,
too much
and she was babbling so loudly and kicking her legs, that we had to head to the back of the theater so she didn't disturb anyone else. Anyway I'm absolutely LOVING maxi dresses and skirt this summer, easy to wear, and no leg shaving required? Sign me up!
luckily maxi skirts are SO versatile because you can dress them way up, or you can dress them totally down, so it is such a great piece to have in your closet. Not to mention, I love royal blue with brunette hair, such a fun contrast.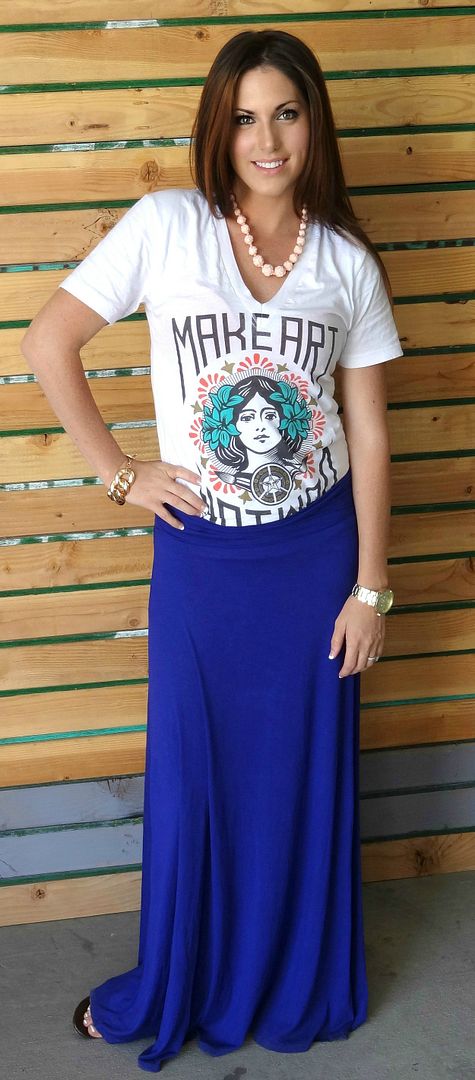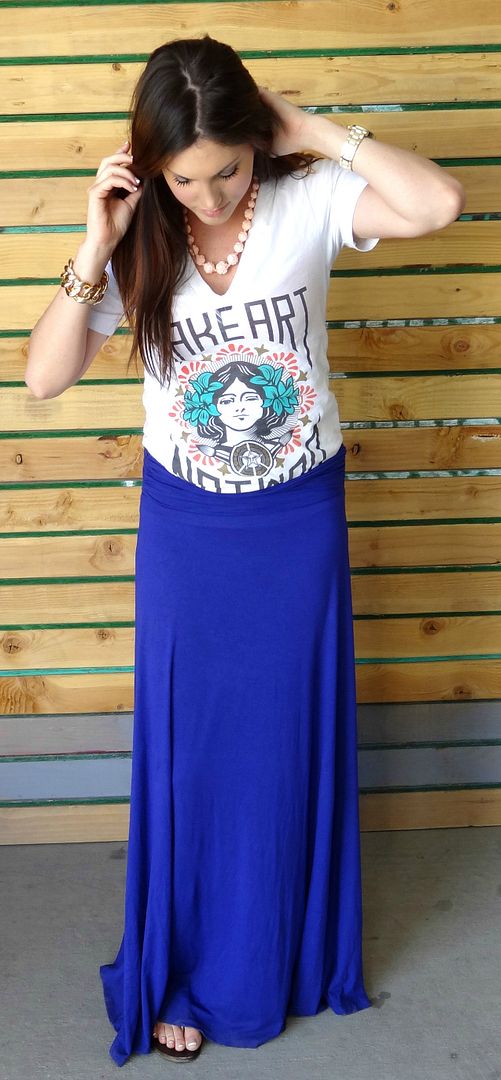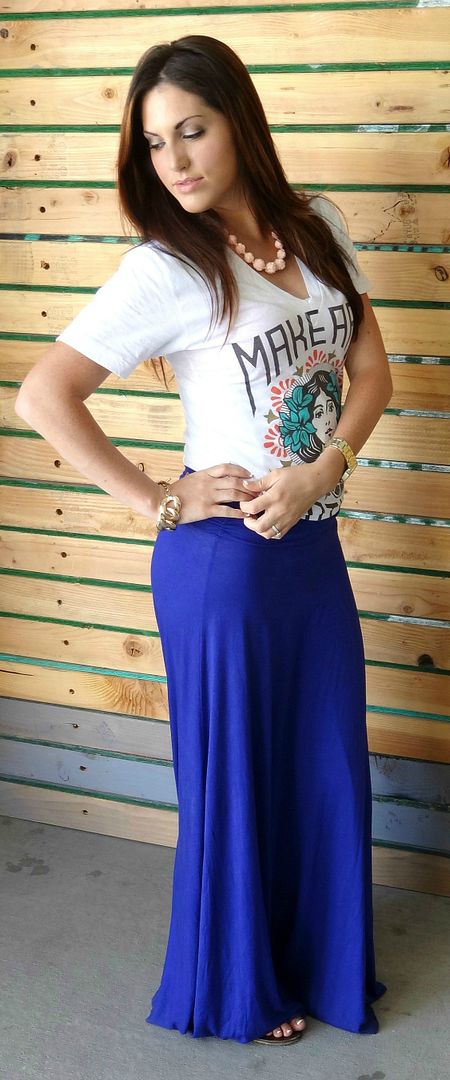 Shirt: Obey @ Zumiez($34)|Skirt: Bohme($32)|Necklace: Forever 21($3.80)|Bracelets: Forever 21(under $10)|
I recently got this shirt from Zumiez...not really a place I shop often, but I saw this shirt on Pinterest a while ago, and I loved it, it is from their Obey line. It says "make art not war" I think it's kinda fun, and I feel like like a hippie when I wear it. ehhh, or maybe not. But either way I like it, and I feel it's a pretty fun shirt either way especially since it's different than anything I own. I'm glad I bought it.
Ok guys, remember, this is THE LAST DAY to enter for the giveaway (see it
here
) for the adorable J Crew-esk bubble necklace. It ends at midnight tonight, the winner will be randomly chosen, and the winner will be announced tomorrow! So stay tuned! If you want to enter last minute, make sure you PUBLICLY follow this blog (private followings will not be counted),make sure you leave a comment on the giveaway page, an like The Dime Diary on Facebook, for an extra entry for each, post the giveaway to your Facebook, and pin the giveaway on Pinterest! That's it!
It's coming to end! Good luck to everyone!