So I thought I would show you a look inside my makeup box today. Through trial and error I have figured out what products are worth the extra money and what products you can get away with buying at the drugstore. I apologize in advance for my makeup being so dirty! They just sit in my box, so I never clean the outside of them!:)
Foundation:
I have 2 different kind of foundation, first I have my everyday which is Revlon Photo Ready foundation.
I have tried MANY different foundations, everything from MAC to Bare Essentials, and I always come back to this foundation. Its cheap, about 12 dollars at Target or Wal-Mart and it offers really natural build-able coverage. I recently have tried both Nars and Makeup Forever HD foundation and honestly it beats the crap out of both of them. I need full coverage for my freckles and uneven skin tone, and this foundation has been my daily go to for years.
My other foundation is a new found love, it's called Laura Mercier Silk Creme Foundation.
This little tube is quite the bank breaker at $42 a bottle. YIKES! I had to work myself up to buying it, but honestly it is worth every single penny, but I only use it for special occasions. I tried it from a friend at first and as I tried it, it just went on smoothly and just a little bit goes a long long way. It was shocked actually with how little I had to use, so you are really going to get your money's worth considering you should have it for a long time. This foundation doesn't mask your face, it just makes you look flawless. Make-up is not meant to make you look like a different person, its meant to make you look like a better version of yourself, and this does just that. You can find this at Sephora or Nordstrom.
Powder:
For days when I need a little more coverage than just foundation can provide, I used Neutrogena Healthy Skin Pressed Powder $12
It doesn't get cake-y, it doesn't look obvious, it it just goes on really smoothly.
Blush:
Love and Beauty blush from Forever 21 $3.80
I hop around from blush to blush, and when it comes to blush I honestly don't feel like it's one of those things you need to spend a lot of money on. I have tried a few more expensive ones, and in all reality as long as you are not buying it from the dollar store, the color is going to come out pretty good. I tried this one recently cause I was out and it was so cheap. The color doesn't turn out that bright, it's much more of a soft pink, but provides really good color.
Primer:
Bare Escentuals Prime Time $25
So this is the best foundation primer I have ever used. It is silky, glides on your skin, doesn't break you out (in my experience), and really gives your foundation staying power. If you are not going to spend a lot on your foundation, at least buy something that will be a great base. A little bit goes a long way on this one too, I have had this bottle for about a year!
Mascara:
NYX Za Za Zu Volumizing Mascara $6.99
I am a mascara junkie. I have used seriously a gazillion mascaras. Its kind of a problem. I have never really found one that I love more than any others, the only one that has ever come close is L'Oreal Voluminous. But recently i have tried this little guy and I actually really like it. Obviously it not going to lengthen your lashes, and it really does take several coats in order to get the full volume i look for, but it does do the job, and Im happy with the purchase.
Everday eyeshadow:
Covergirl Eyehancers $4.99 and Maybelline Smokes $5.99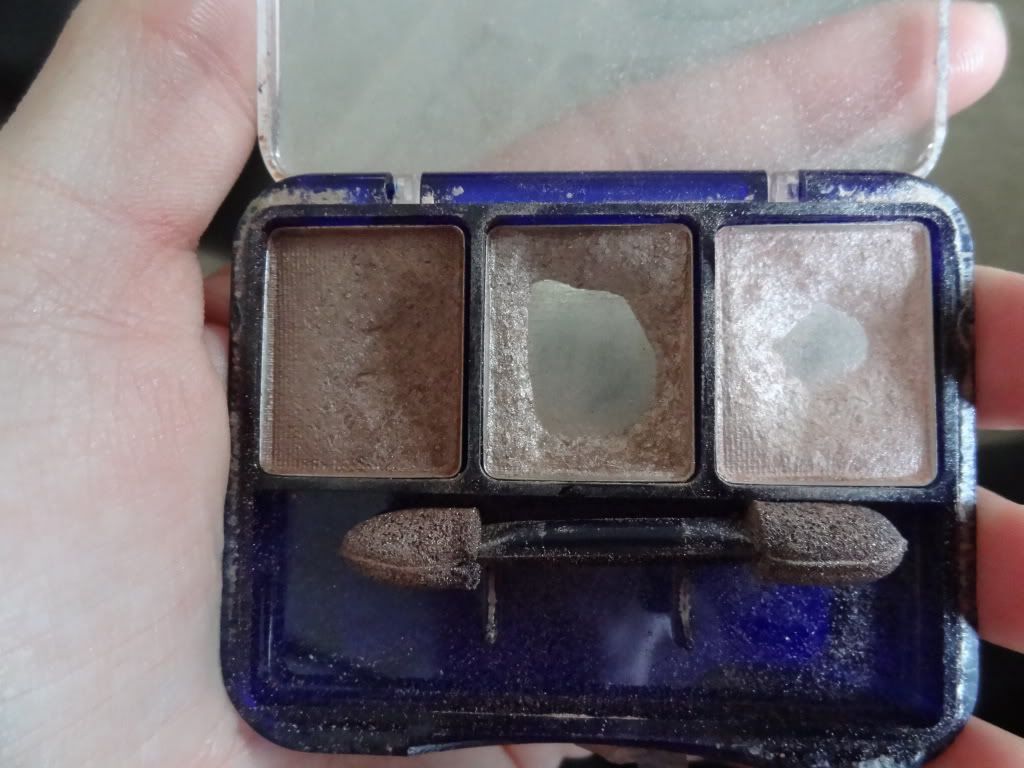 These are my everyday eyeshadows. The Covergirl one I have in Shimmering Sands. Its all neutral colors and are a little bit shimmery considering I don't really like matte eyeshadows. This is my 3rd or 4th set and I will NEVER stop using it.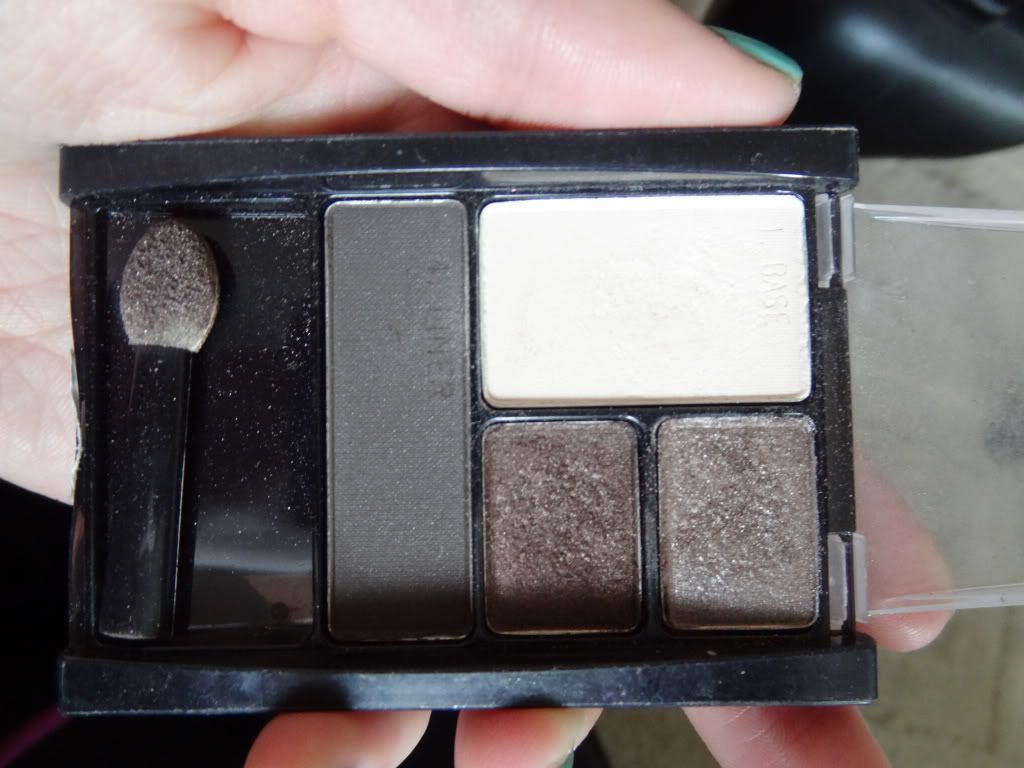 The Maybelline I use in the Natural Smokes color, and I use it for when I want my everyday eyeshadow to be a little more smokey. I
usually use 2nd darkest color since I have found the darkest brown turns out to be almost black and makes me look like a raccoon.
Other eyeshadow:
MAC Pigment Pots $18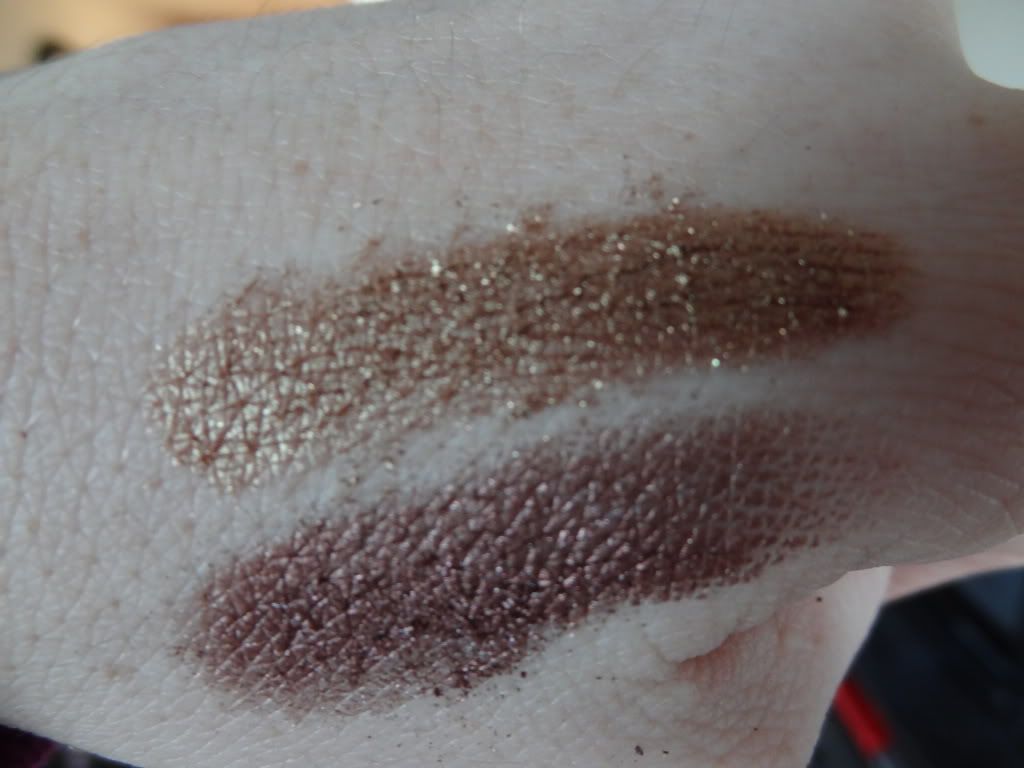 These eyeshadows have a special place in my heart. If you have never tried the pigment pots before, you must. I die for these eyeshadows. The color and the pigments are incredible. INCREDIBLE. They are loose and although they are a little bit more on the expensive side, they will last you forever. FOR-EV-ER. I'm not exaggerating either. The darker color called Chocolate Brown, I have had for 6 years, and the lighter called Cocomotion, I have had for 4 years, and neither one is even close to be being empty. A tiny tiny bit goes a long way and the first time I bought it, the girl selling it to me said "you will get sick of the color before you ever use it all up." She wasn't kidding. These are investment eyeshadows, they don't expire, as you can see since I use a 6 year old one still, and the color is so rich. If you don't feel like shelling out the almost 20 bucks for one, just go in and ask for a sample. I have gotten samples in 3 other colors and they each lasted about 2 years. HA! yeah, a sample lasts that long.
Lipstick:
MAC in Impassioned $14 and Revlon Lip Butter in Strawberry Shortcake $6.99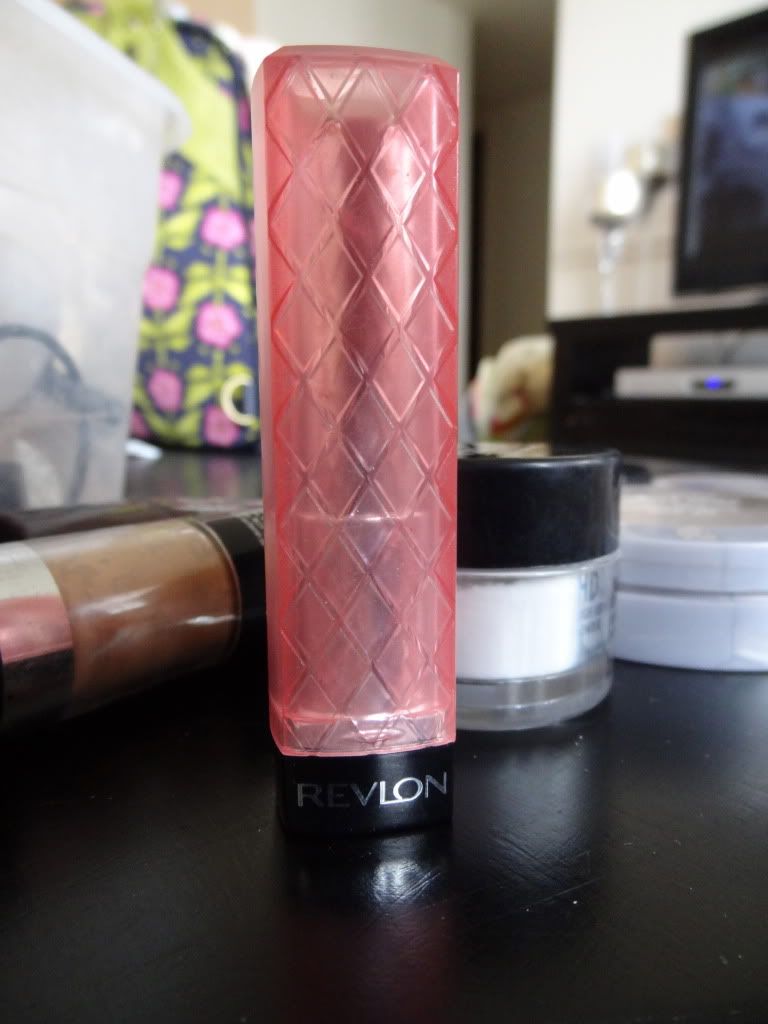 Revlon's Lip Butters are a god send. When I saw these on the shelf I bought two. Strawberry Shortcake sand Candy Apple (Red). I love them both. The Strawberry Shortcake is the best everyday pink. It has bright color, but feels like a lip balm. I don't like most lipsticks because they are waxy and dry on your lips, but these literally keep your lips soft like chapstick for hours. Not to mention the color is just so pretty. Please buy one, I beg of you.
My favorite actual lipstick is called Impassioned by MAC. It is hot pink. I don't wear this that often since it's SO SO bright, but when I have a hot date with my man, or just want to dress up and feel more girly, I throw this on. Granted, it may not be the right color for everyone, but if you love a bright statement for your lips, this is a must buy.
Eyeliner:
Maybelline Master Precise in Black $6.99
I have tried a lot of eyeliners just like mascaras, and I have found the one I will use forever. It is like a super thin felt marker. The tip is super super thin and the base wider so you can make your lines as thin or as thick as you want. It stays put all day long and does not smudge, but comes off super easy with just some water, even if you have never used "liquid liner" this is a great place to start, and for experts alike!
Bronzer:
Victoria's Secret Mega Bronze Tan Booster $12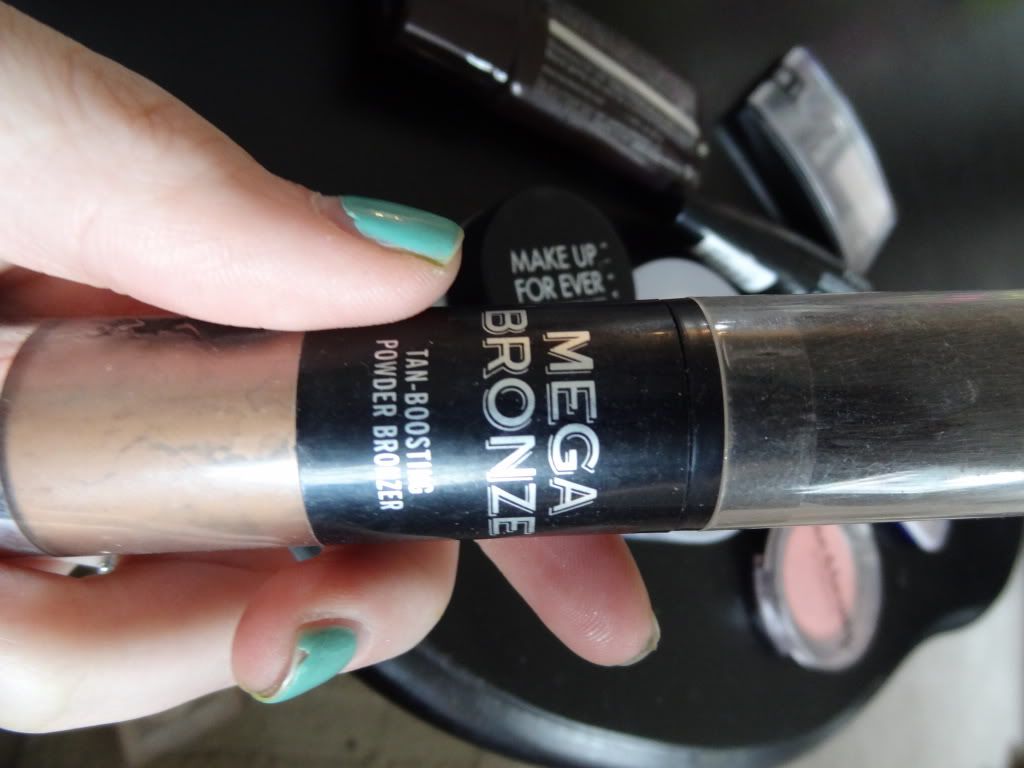 I may not be the greatest person to give advice on bronzer considering that I am a ghost right now, but in the summer when my body best really tan, my face usually stays significantly whiter. So thats where this comes in. I bought it last year in the summer during the Semi-Annual Sale. The bronze color looks really natural, and doesn't look orangey at all. Best of all, it is build-able, so you can use it year round. The only downfall I would day is the actual brush that dispenses it isn't that great, so I usually dispense it onto my hand and then brush it on with my own kabuki brush.
Eyebrow Gel:
ELF Wet Brow Gloss $1
Yes you read that right, 1 dollar. At Target they have ELF products and this is my favorite. No need to buy expensive brow glosses. This stuff costs a buck and has 2 sides so it will last you a while. It has super strong hold and keep your eyebrows in place all day long. There isn't really much more to say, and there really isn't any excuse not to own it.
Setting Powder:
Makeup Forever HD Powder $15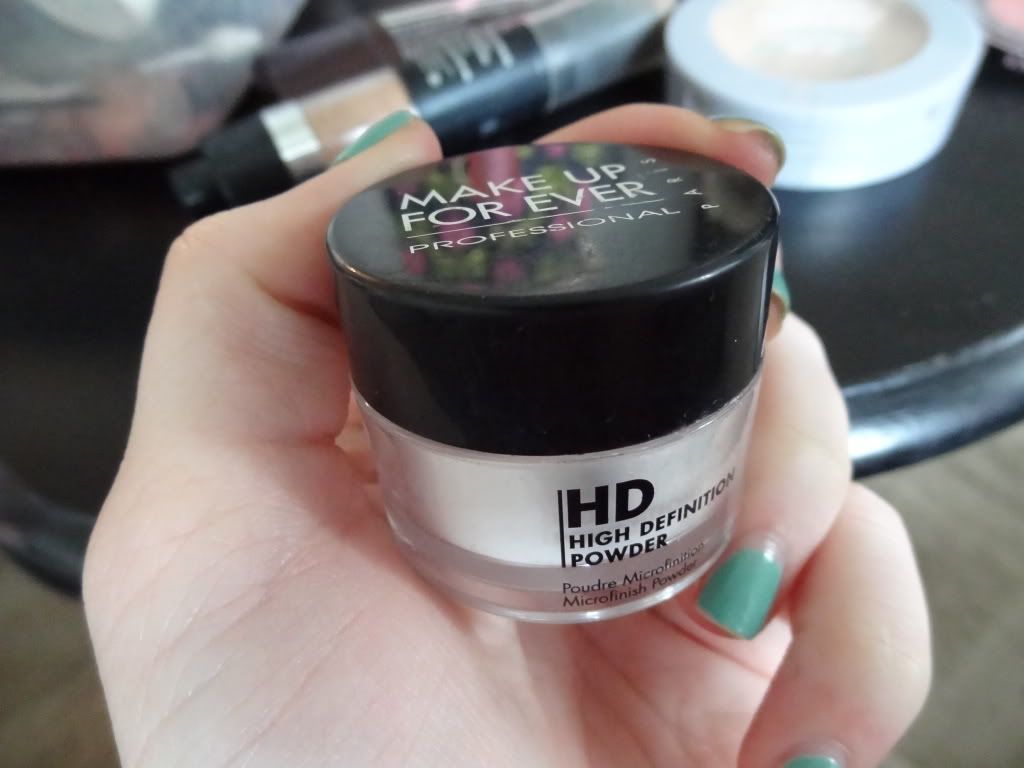 So I'm just going to say this. This feels like your face is being dusted with pure silk. This is one product to spend a little more on. I used to have another setting powder called Ben Nye Neutral Set...it sucked. This stuff is far superior and I'm very glad I spent a little more to have this product. It may be white, but after dusting it on, it goes translucent, and keeps your face makeup in place all day. I don't ever even need to touch up. It comes in 2 sizes, the smaller size is about .17 oz and it costs $15. So it is a lot for how much you get. Im not sure what the size of the other one is, but its about $30. I bought the smaller one, cause you only use a little bit and it lasts a long time. I have had mine since the summer and its still half full. You get what you pay for in this product, and it's worth the splurge.
Lipgloss:
Buxom by Bare Escentuals $18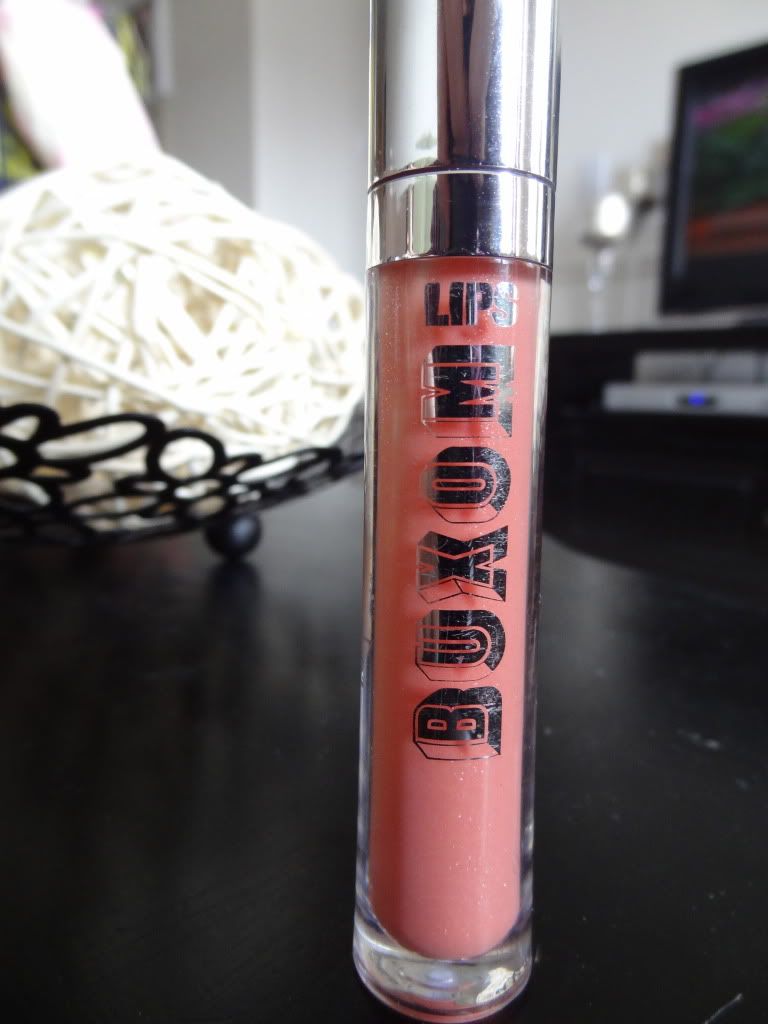 I have a ton of different lip glosses, but by far my favorite is my Buxom gloss in the color Bunny. This my 3rd tube and I will continue to buy it. Tts a super cute pink, that comes out more sheer. It claims that it is a lip plumper...hmmm I don't know that I have ever noticed the plumping, but I don't care. I buy it for the color and the fact that it makes my lips tingle a little bit, kind like they are cold It feels awesome! The gloss lasts a lot longer than most glosses I feel since it's a little bit thicker, and they have TONS of colors. They even have come out with more colors since I last bought this one. You can find this at Sephora or at the Bare Escentuals store!
Well that's my make-up box! My tried and true favorites. I hope you can find something you love!