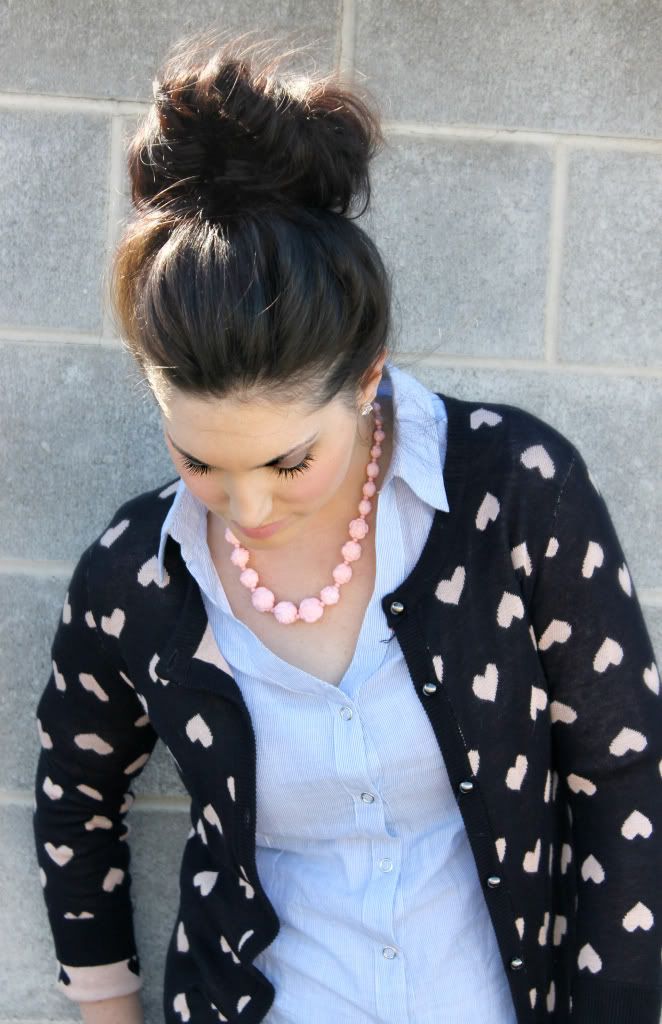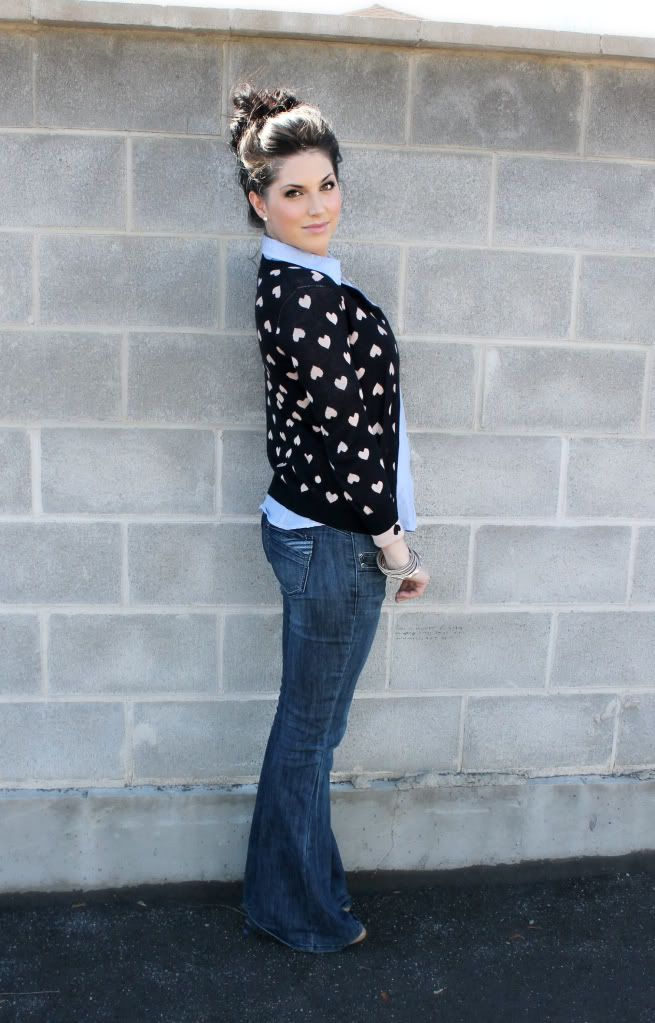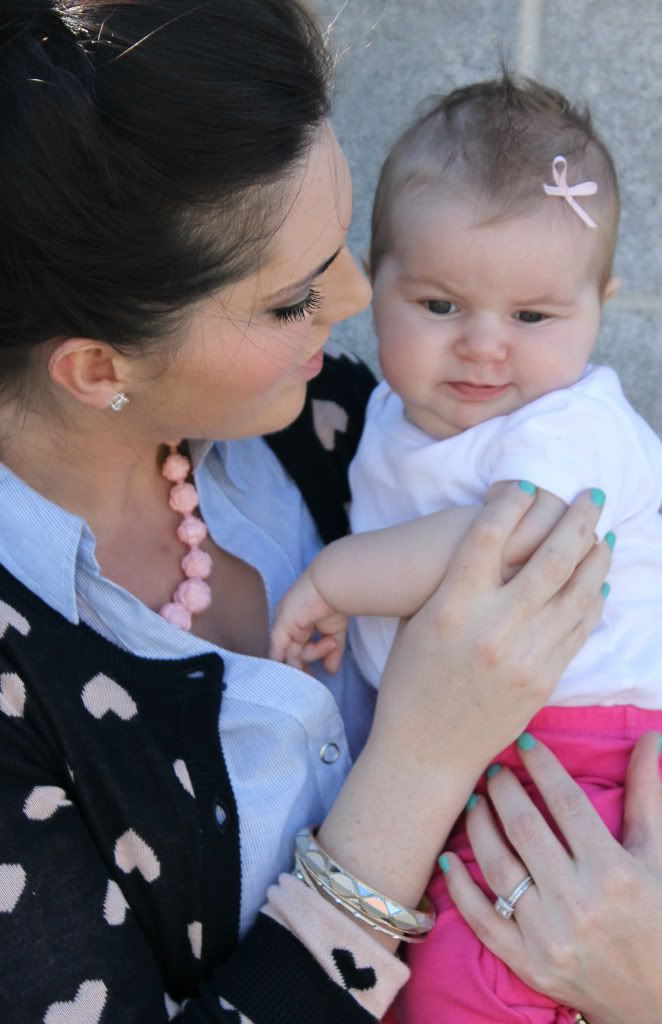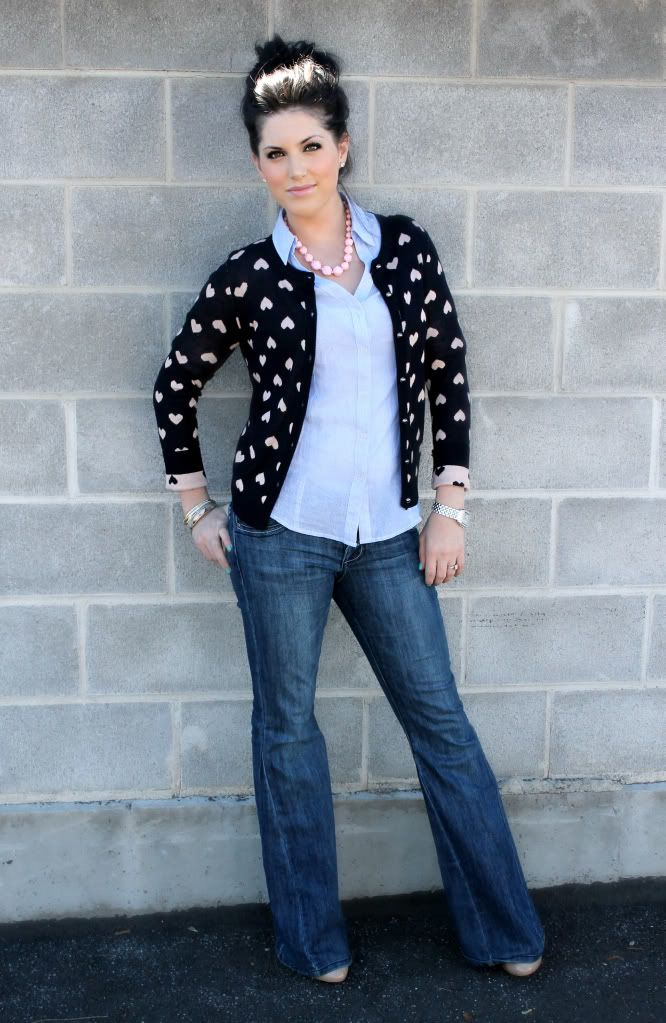 Top: Forever21 ($12.80)| Cardigan: Forever 21 ($22.80)| Jeans: Jolt -clearanced at Nordstrom Rack($7.50)| Necklace: Forever 21 ($3.80)| Bracelets: Forever 21 ($1.80)| Watch: BP at Nordstrom ($18)| Shoes: Jessica Simpson at Ross ($24.99)
Looks like baby Ava joined us for this post! Isn't she fat? I could bite her all day!
Anyway by now it should be pretty obvious that I love getting clothes at Forever 21. Not just clothes, but accessories, and shoes, and belts, and...the list could continue. I have even bought nail polishes and make-up there; which to be honest is some of my favorite nail polishes (who knew?) Anyway I love Forever 21 for a lot of reasons, but first and foremost because they have a ton of cute clothes, and it is ALWAYS inexpensive. I don't need to have a shirt by Michael Kors just because it says Michael Kors on the inside. If I can find one very similar for a ton cheaper why on earth would I spend a ton of money on the more expensive one? No one is going to know the designer unless I tell them, and if I go around telling people who designed my shirt without them asking, then Im a snob. Sorry, but its true! I remember in high school all that mattered was that you were wearing a Hollister or Abercrombie shirt and that it said so proudly across your entire chest. These days no one cares where you got your clothes, as long as you look awesome! Haven't you noticed that so many girls are even thrifting their outfits these days? It's not how much you spend on a outfit, its how you make it work for you!
And while we are on the topic of things coming back in...I love skinny jeans. They are wonderful with everything from boots to stilettos, but you already know that. But what rivals my love for skinnies is trouser jeans. Im not talking flares, I'm talking well fitting, wide through the knee and down jeans. Honestly sometimes I think I love them more, and actually I never stopped loving them, or wearing them, and I'm SO glad that they are coming back with a vengeance.
Well before I go I wanted to share a funny story about this cardigan. The night before I was being induced my mom took me to the mall to walk around get me good and dilated. We stopped at Forever 21 and I found that heart cardigan. I couldn't even button it around my belly, but I wanted it so bad. I decided Scott had to get it for me and the next day during my labor I told him repeatedly that I wanted it. I talked about it the entire labor, even as I was pushing. No joke, I have a video of me pushing and saying "ARRRRRGGHHH HEARTS SWEATER!". My mom would say "you can do it, just think about your sweater." I was determined to have it. But as it turned out, I did not get it, he told me he never got it, and a week after I had Ava, went back to find it and it was gone. I was so upset because I wanted it so bad, and couldn't believe Scott wouldn't buy it for me. About a month later on Christmas day, after I had totally forgotten about it, and I opened up a present from Scott, and low and behold, my beloved heart cardigan. What a little trickster that boy:)
Have a great day!