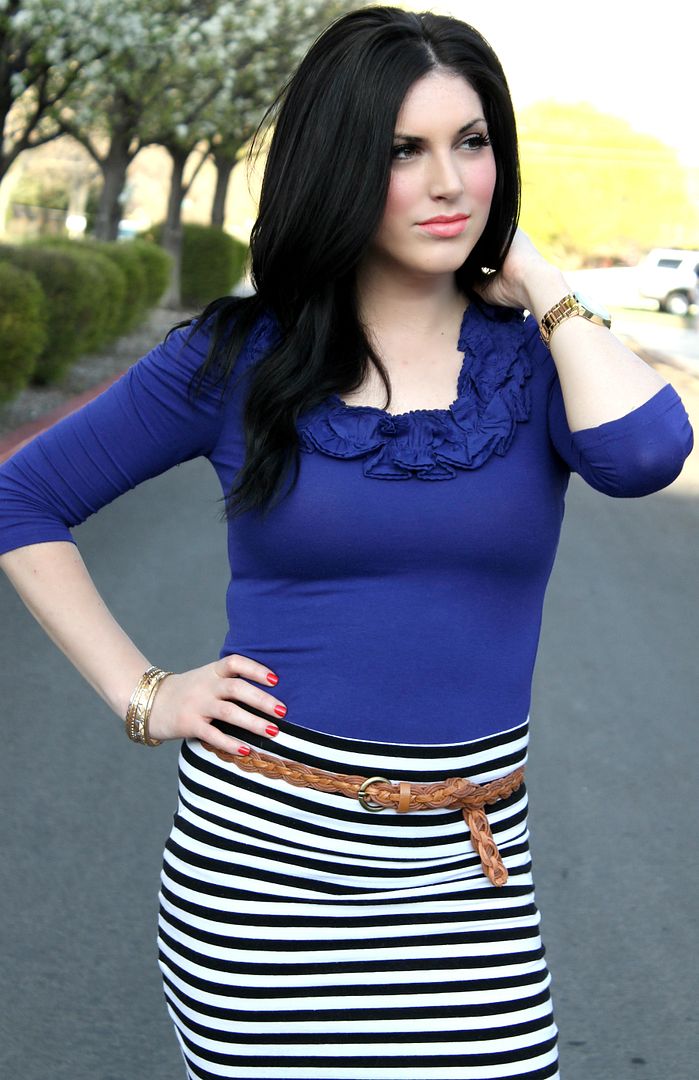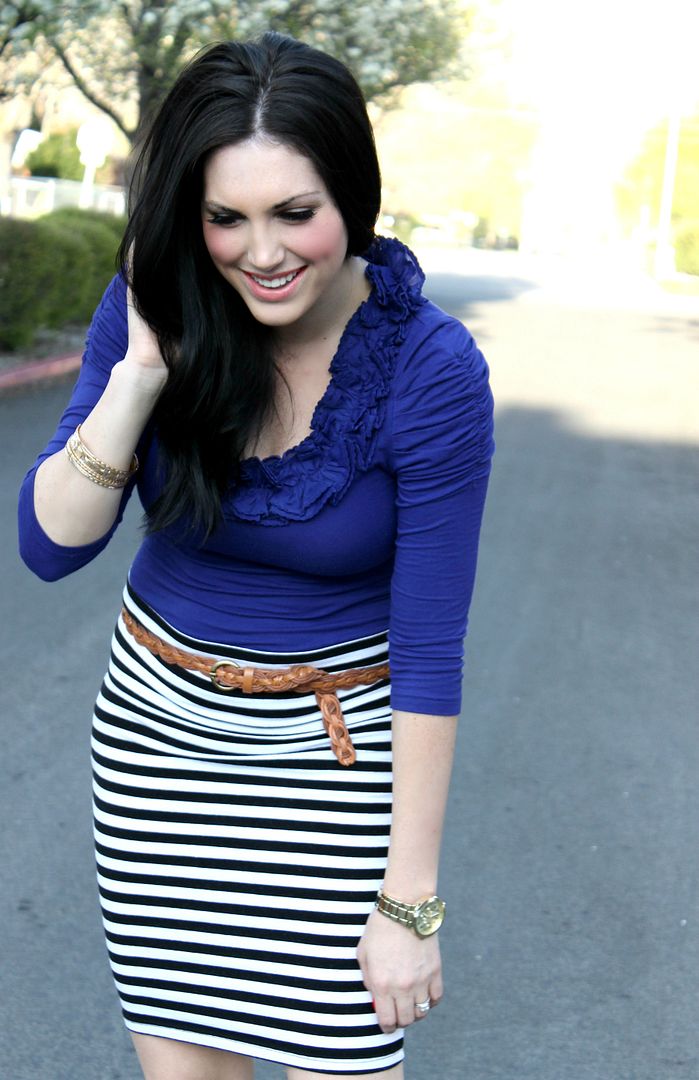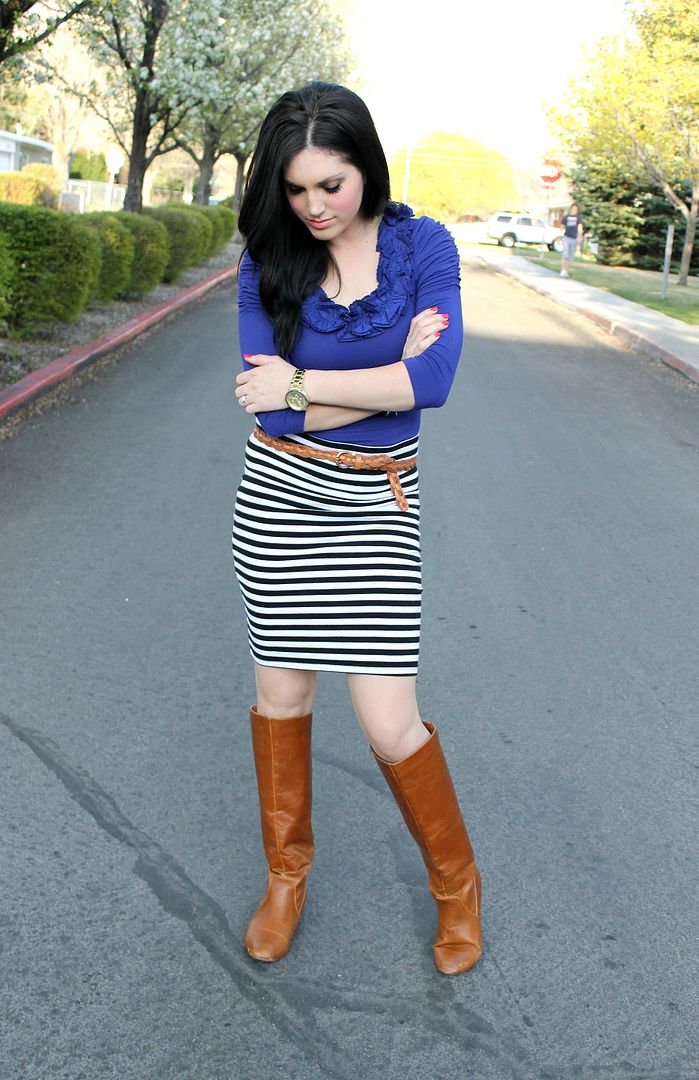 Shirt: Forever 21($17.80)| Skirt: Forever 21($7.80)| Boots: Charlotte Russe (2 pairs for $50)| Belt: Forever 21($6.80)| Bracelets: Forever 21($1.80)| Watch: BP @ Nordstrom ($18)
I guess I wasn't done with my boots yet. Ok, ok, I'm done now! I've put them away but I seriously love my boots so much, I had to give them one last day out!
Can I just tell you how much I love this shirt? I got it at...you guessed it, Forever 21 last winter, and I can't even count how many times I have worn it. When it comes to shirts that have elaborate necklines already, like this one, I don't feel the need to wear too much jewelry. Sometimes, with certain outfits, minimal is best. But of course, I did pair it with my staple watch and bracelets, and of course my diamond studs. (not real diamonds) haha
My boots I am wearing probably have seen better days. I probably wore them everyday at the end of my pregnancy, and so they are looking a little rough. Ill tell you why. When I was pregnant, I was a giant orb of belly. It was huge....
see below: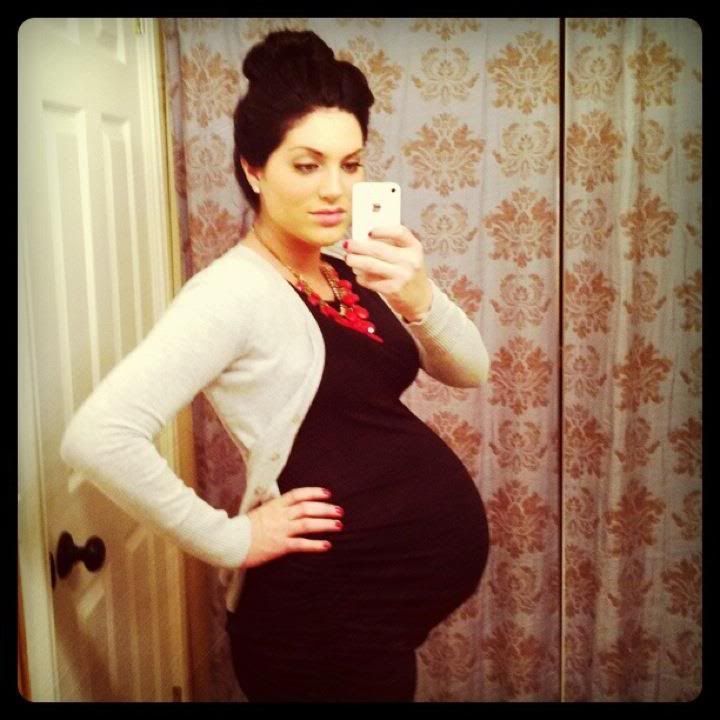 it was probably due to my lack of hips, thus baby moved all out front, and by about 29 weeks I couldn't even reach my feet to paint my toenails, much less get my own shoes on and off. But I had an issue, it was fall/going into winter and my boots were the easiest thing in the world to slip on. On...not off. Scott had class till late every night and I would get home before he did, and everyday I was in a full blown panic when I came in the door and knew I had to attempt to take off my own boots. One day I was so upset, I almost went to my neighbor to ask for her help in getting them off. I would struggle, and cry, and kick, and grunt, and get down on the floor, and kick at them until they flung off all the way across the room. They would hit walls, whatever was lying around, and I would leave them laying wherever they fell, and go straight to my bed for a nap (taking off your own shoes while pregnant exhausts you. Well actually everything you do pretty much requires a nap.) And then I would always swear that I would not wear them again cause it was too much hassle...until the next day when I was a work for at least an hour before I realized Iwas wearing them again.
I couldn't win. But you'll be glad to know that I can get my own shoes off now :)
Anyway, I hope ya'll are having a great day!
By the way- the nail polish I am wearing is OPI-Red lights ahead...Where?
I am seriously obsessed with this slightly orange tinted red.