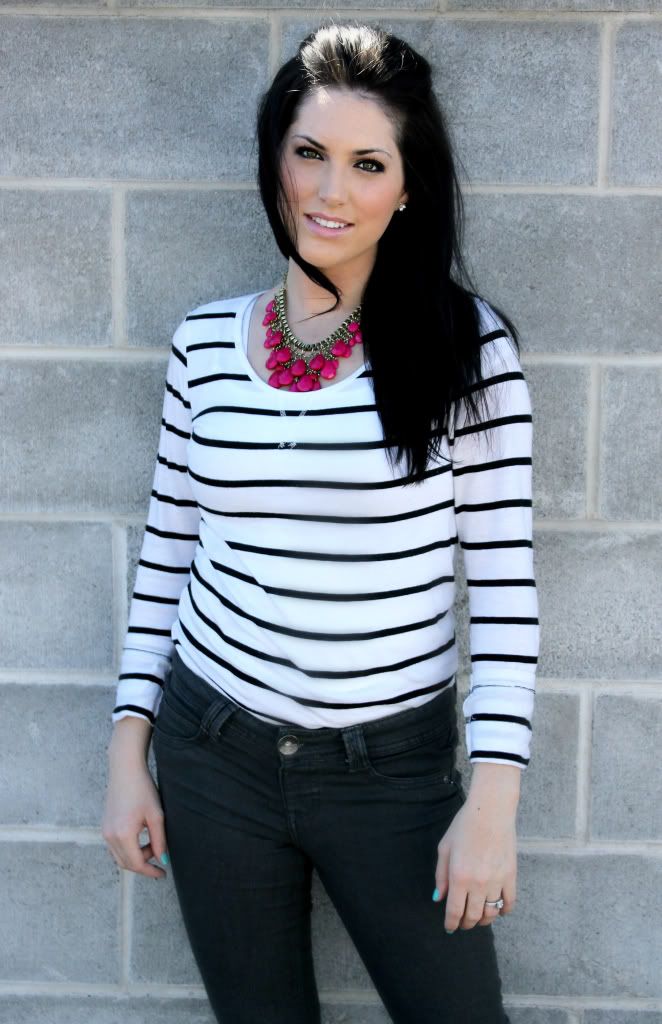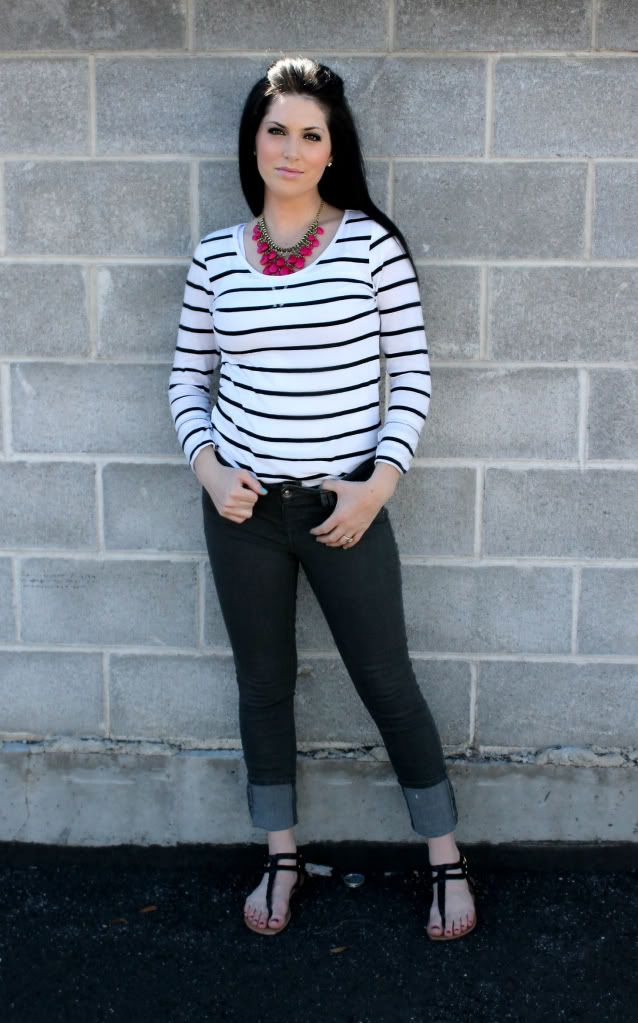 Top: Forever21($10.80)| Jeans: Jolt, clearance @ Nordstrom Rack($14.50)| Sandals: Forever 21($7.80)| Earrings: Icing ($16.50)| Necklace: BP @ Nordstrom($18)
I'll be honest with you, being a stay at home mom is kind of a cuteness killer. Most days if I have no intention of leaving the house, and sometimes when I do, I just wear sweats. It's pretty sad actually because as we all know, fixing yourself up, even just a little bit, seriously boosts your confidence and makes you feel better about yourself. This striped shirt is one of my favorite comfy staples. I wore it pretty much everyday after I had Ava, with sweats, even to run errands. WHICH IS WRONG LADIES, WHICH IS WRONG!!! Just because you may not have anyone important to see, doesn't mean that you can't look cute and be comfortable. Have you ever seen the E card that says "I fear wasting a cute outfit on an insignificant day?" yup. That's me! I have tons of cute clothes and resort to wearing my usuals so often because Im not doing anything special.
Well, we don't have to get all dolled up to go out and run errands or go on a walk. We can just use our comfy staples, and make the more going out appropriate. For this I just took my good 'ol trusty striped shirt, paired it with gray stretchy jeans (which we all know stretchies are the holy grail of comfy jeans) and paired it with some simple gladiator sandals. I kept the jewelry really minimal, cause we are going for cute casual here, and too much jewelry will make an everyday outfit overdone. A bright statement necklace pulls it all together, and adds some color and interest without making you look too done up.
Best of all, if you switch out your sandals for wedges, and throw on some bracelets, your ready for a night out. Who doesn't love a versitle outfit?
So ladies, lets all strive to make our casual days a little cuter ok? I know I'm trying!