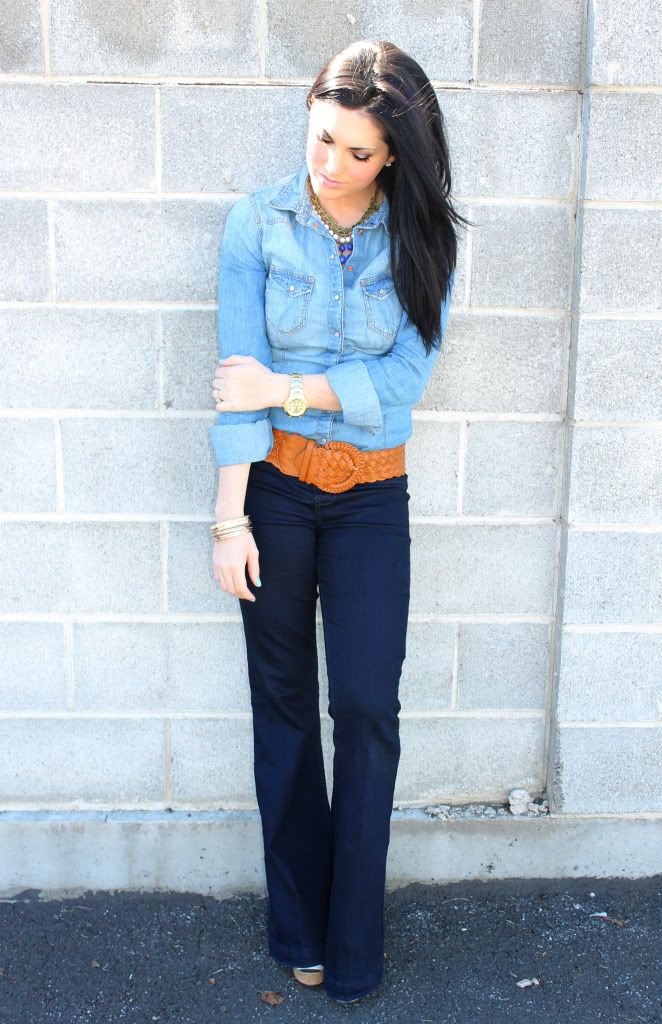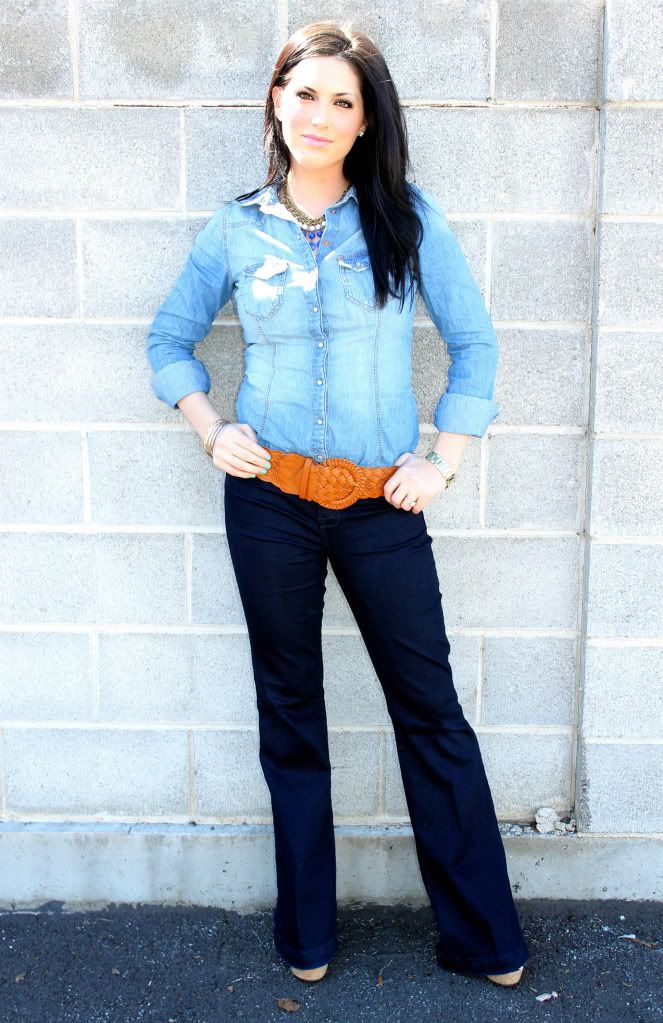 Top: H&M($20)| Jeans: See Through Soul(clearance @ Nordstrom Rack $14.50)| Belt: Forever 21($7.50)| Necklace: Nordstrom Rack(on clearance $5.50)| Watch: Nordstrom BP ($20)| Bracelets: Forever 21($5.50)
Horray! It's my very first fashion post, and I am very very excited about it. Winter is on its way out (some places more so than others) and Spring is finally here. Hopefully to stay! Seeing as it is not blazingly hot outside yet, I decided I would post as many of my more winter-y/warmer outfits as I could before its full blown summer. So here we have it, the chambray shirt. I have decided that every girl, and I do mean EVERY girl should have one of these in their closet. Its so versatile, and can be worn differently in every season. Pair it with some black leggings and some knee high boots, and BAM! fall ready. Pair it over a bright patterned knee-length dress and some cute embellished sandals and BOOM! summer chic.
I had one problem though... I didn't own a chambray shirt yet. But I would like to first state that that was not entirely by choice. I had been searching high and low for the perfect one. I wanted it to be long enough to tuck into shirts, a light enough wash to be able to pair with any jean, snap buttons instead of button buttons, inexpensive, and a lightweight and soft material that could be worn year round. Basically I wanted it to be more of a jean "colored" shirt, and less reminiscent of the nasty cropped jean jackets I wore as an 8th grader. I recognize that I had some intense pre-requists for this chambray shirt, and slowly but surely I was watching stores fade out the chambray shirt from their inventory because everyone pretty much already had one, and I was probably the last girl on earth to jump on the band-wagon.
But alas, I DID finally struck it rich on my hunt. On a normal trip to H&M with my friend Haley, I waltzed past a table of these coveted beauties. I scrambled to find my size. Surrounded by size 2's (I am not a size 2 mind you) and in a full blown panic, I thought to myself. "Why does this always happen to me?!? Why must I be the most common size possible?" and I made my way to the dressing room in defeat. Once there, on the table I spied a single size 8. Are you kidding me??? I snatched it up for myself and came out of the dressing room glowing. SUCCESS! It fit, and all was right with the world.
If you haven't gotten one yet, please do. I wish you quicker luck than myself.