So I haven't done a look for less Thursday in a while, and obviously it is not Thursday, but I had a good one to share with you that I didn't want to have to wait till next week to share :)
So I saw this ADORABLE striped Terry sweatshirt online at Banana Republic (HERE).
So cute right??? Well it's an unfortunate $69.50. I mean if you have the money to drop, by all means, fetch that baby by any means possible. If you are like myself and have a much more meager budget, then I think this is a pretty worthy substitute (HERE)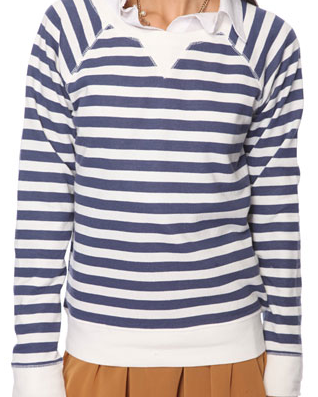 Yes it is missing the oh so cute pocket, and the stripes are quite a bit wider, but I think the same look can be achieved. Especially if you layer it! Also I have tried this sweater on in person and it is very soft and really flattering, not to mention WAY comfortable. Best of all? It is part of Forever 21's BOGO sale. It is normally $15.50 and now you can purchase it for only $7.00!
I realize than my brain is jumping a little ahead of the current season. Im already craving those boots and pea coats. I think it's just that the grass is always greener on the other side, all winter we beg for summer to get here quick, and then 1 month into summer we can't wait for fall. I don't know, maybe its cause it's too hot outside and Im in denial.
I hope everyone is having a wonderful weekend! Thanks for stopping by!