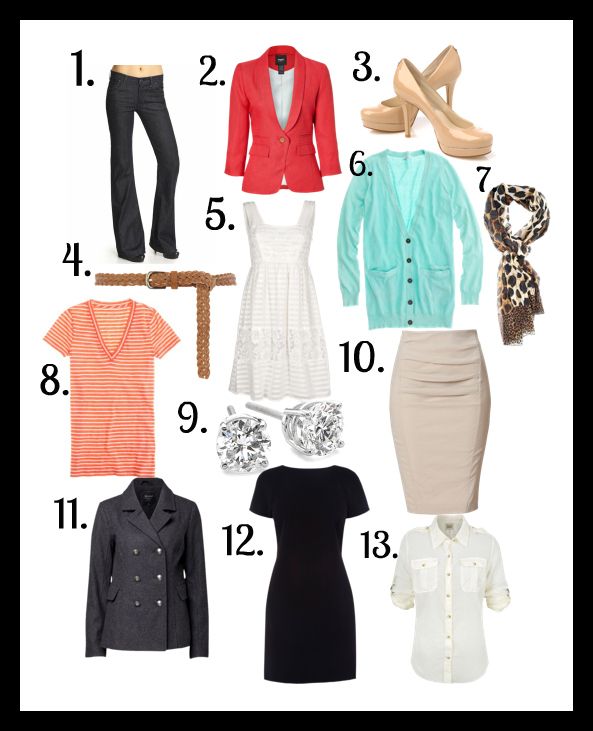 Hey lovely ladies! So I recently had a reader ask me to do post on wardrobe staples, and OF COURSE I want to help out with that. She told me that she is just starting out with her wardrobe and needs some ideas of must have things to have in her closet. Well today I'm gonna show you what I think are basic must haves for every fashionable girl, budget or no budget!
1. Good fitting jeans: Every girl needs a pair of perfect fitting jeans. Preferably in a dark wash, since it's flattering on everyone. Trouser pants are flattering on most figures, as long as they are not too short and not too long. In addition to that, at least one pair of go-to skinny jeans are a must. You can tuck them into boots, wear with heels, and they are the year-round jean.
2. Blazer: Like I have said before, I don't own too many blazers, but every girl should have at least one. Blazers are chic, perfect for dressing up and outfit, or layering instead of a jacket on semi-cold evenings.
3. Nude heels: It doesn't matter if they are pumps or stilettos, every girl should own a pair of nude heels. Nude is the new black, and these bad boys can be paired with anything, and I do mean anything. I wear my nude heels more than any other heel. That's saying a lot.
4. Skinny belt: If you don't have a skinny belt, please get one. They are the simplest accessory to change up your outfit. It cinches your waist and creates interest in your outfit without drawing too much attention. I neutral color like tan is perfect for pairing with almost anything.
5. Day Dress: It's important to have at least one day/sun dress. Day dresses are flirty and feminine, but don't look too over done like wearing a cocktail dress midday. Plus they are perfect for days when you just want to slip on something easy if you don't want to wear pants.
6. Cardigan: I am a HUGE cardigan lover. I seriously have more cardigans than anything in my closet. Part of that is for modesty's sake, and part is just because I love them! They are the most versatile, easiest thing you can wear, and with so many colors, styles, and patterns to choose from, why not have many and create many different looks? If you don't have any cardigans yet, start out with basics, like white or black. A striped cardigan in neutral colors would be perfect too.
7. Something Cheetah: That sounds dumb, but I love cheetah. Sure maybe some people think it's tacky, but what do they know!? They obviously don't know how to style it so you don't end up looking like a girl from Jerseylicious. There are so many options for cheetah; cardigans, belts, shoes, and scarfs (I have all those by the way), but any of them can be used minimally to spice up your outfit without going overboard.
8. Basic T-shirt: You should have several already, but every wardrobe needs a loose fitting basic tee. You can layer this guy like crazy. Start off with solid colors, and then if you want to experiment with patterns and colors, get a striped one like this one at J.Crew right now (I got this one in blue for only $11 on sale the other day)
9. Studs: Diamonds are a girls best friend, even not real diamonds are pretty lovable. I have a pair of cubic zirconia I got at Icing a while back, and I wear them almost everyday. Seriously. Fake diamonds do start looking shabby after a while, so I replace mine every year. But if you are wearing them that much, you are definitely getting your money's worth.
10. Pencil Skirt: Whether you are going to job interview or to church, the pencil skirt is flattering on almost every body type, and it just SCREAMS classy woman...ahhem...as long as it's not so tight it would rip of you bent over, and doesn't have a slit up the back right to your butt crack.
11. Peacoat: It is going into summer, but for future reference, a peacoat will probably never go out of style. They are always in demand, and always very sophisticated.
12. LBD: Im pretty sure this is a no brainer, but the little black dress is perfect for that night out you need to dress up, the work party, or an anniversary.
13. Button-up blouse: These have a special place in my heart. Perfect for layering, always in style, always should be in your closet:)
And then there are MY opinion staples. These are things that may or may not be a fad right now, but at least good to have in your closet right now while they are in: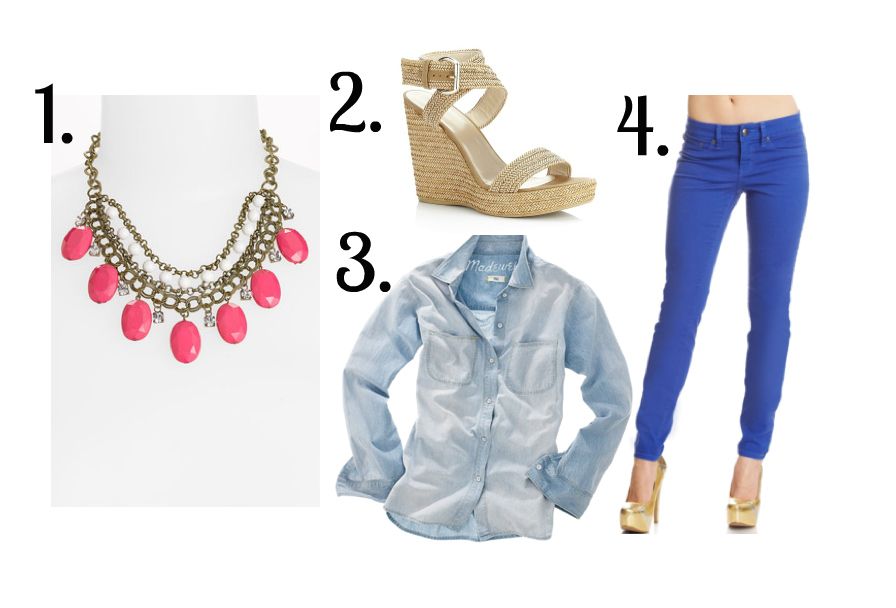 1. Statement Necklace (this one is only $16 from Nordstrom-
here
)
2. Wedges
3. Chambray shirt
4. Colored Denim
Hope this helped anyone looking to add those little staple pieces to their wardrobe! Let me know if you have any questions!