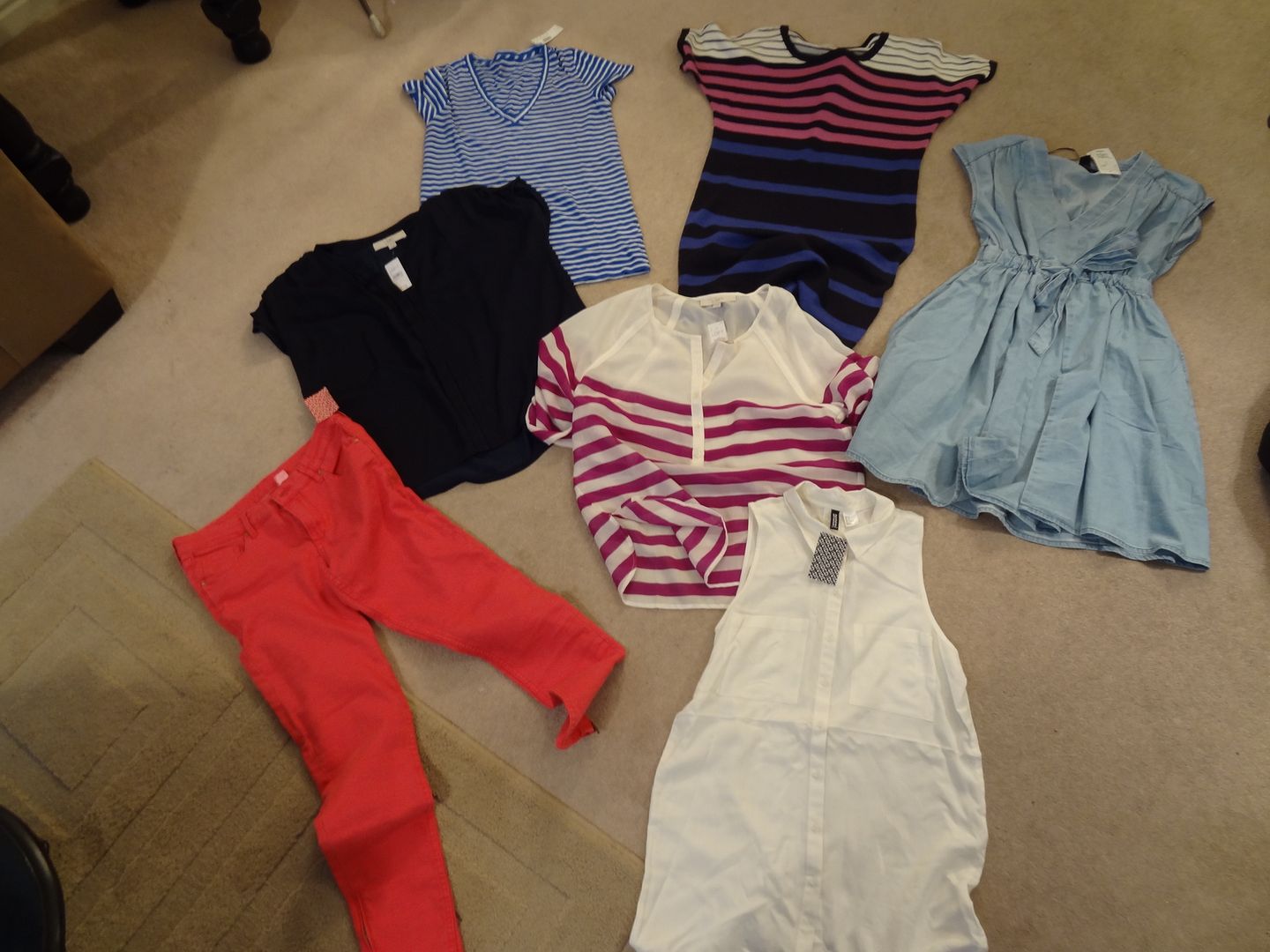 So I went to a mall yesterday during the day, some ways away from my home, and I had a field day! I got away with SO much good stuff, and that always makes those kind of trips so much more worth it. When it comes to Forever 21 especially, people have told me that "they never find anything good there" and one person actually told me I find good stuff because "I stalk that store." Yes and no. Yes I have a LOT of free time being a stay at home mom, and lucky (or unlucky) for me there is a mall 3 minutes from my house. So I probably see my local Forever 21 more than most people do. But on the flip side, I do manage to find pretty good finds, at great prices at almost all places I go. If you have the time to dedicate to it, finding inexpensive stuff that you love can be very achievable. I have learned the trick is to take a look around more than once...
Let me explain. I almost never find the things I end up buying in the first round of stuff I pick up. When you fist go to a store, the first thing most people do is start frantically searching for something that catches their eye. There is a lot to take in when you go into a clothes store, especially into a large, usually disorganized store like Forever 21. Most people scan those things closest in eye shot, and pick up the stuff that they notice first, or they pick up things that are similar to what they already own because they know it looks good and they know it's something they would wear. I always do this.
I usually head to the dressing room with 10 different items, and usually none of them look good or I realize that I already have almost the exact same piece of clothes.
It's then when you feel like you have already searched the store and there is nothing good, that you need to take another look. I swear to you this works. I swear it, at least most of the time. Of course you need to not be rushed or in a hurry. Plan a day that you don't have anything pressing and dedicate it to just taking your time. When you start taking another look, you start looking HARDER. When you look harder, you find things that are tucked away and not spotlighted, which many times are totally untouched. I cannot tell you how many times I come out of the dressing room discouraged cause I found nothing I liked. I decide to take one more look and I find the jackpot of cute stuff, hidden in places I looked right over before.
For example, yesterday I went to H&M. I probably took 8 things into the dressing room after looking around for almost 30 minutes. Nothing and I mean nothing of the 8 worked out, and I thought, "no way. I came all the way down here. I'm sure there is something I missed." I spent the next hour (yes an hour) re-looking over the store. I ended up with 17 things in the dressing room my next trip. None of them were things I even noticed before. I bought 3 things. I would have bought 6 but I really needed to limit my spending so I didn't buy a couple things that I really still liked.
I headed over to Anne Taylor LOFT and they were having a 40% of sale on sale items. I found tons of cute stuff after scanning the store. I found 2 super cute shirts for 10 bucks each, and as I was coming out of the dressing room with my soon to be purchases, I saw a little rack off to the side, I decided to check it out, and low and behold, an adorable sweater dress in my size, normally $89.50 on clearance for $14.99. Had I not taken another look, I would have missed this awesome find!
So my friends, if you have the time, take another look, you might be surprised what you find! I can't wait for you guys to see my finds from my haul on! Hopefully you will love them!
Also girls, stay tuned for tomorrow!!! I have a very special treat for you! I will be having my first guest blogger and will be focusing on health/fitness. You don't wanna miss it!
Hope you're having a great day! xoxo
By the way: Im putting up my blow-dry tutorial one more time. I have heard from many people that the "fixed" video is still not working. So hopefully this last attempt will work! Let me know if it is viewable please!